FIBER CARDING & CUSHION FILLING MACHINE
FIBER CARDING & CUSHION FILLING MACHINE
1. The machine is suitable for carding and filling various kinds of short fibers, such as wool, cotton, waste, polyester, resin, foam particulars, etc.
2. The machine is an ideal economical filling machine for pillows. It has excellent carding effect. The carding rate of the carding machine can reach up to 99 percent. And the speed of filling machine can reach up to 3 to 5 pillows.
3. The machine can be matched with worktable in order to achieve better filling efficiency.
4. Customers can choose different filling machines according to actual needs.
Technical Specification:
| | | | | |
| --- | --- | --- | --- | --- |
| Model: AV-909E | AV909-2 Fiber Carding Machine | AV-908B Filling Machine | | AV-905B Filling Machine |
| Dimension | 2200*980*1080mm | 1450*1050*1210mm | | 950*560*1020mm |
| Power | 4.4kw | 2.2kw | | 2.2kw |
| Capacity | 150kg/h | 3-5pcs/min | | 3pcs/min |
| Weight | 600kg | 200kg | | 60kg |
Consist of: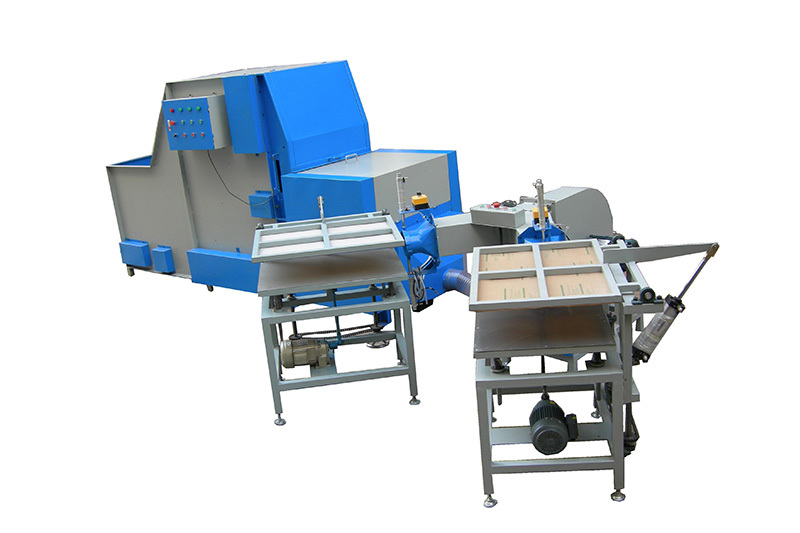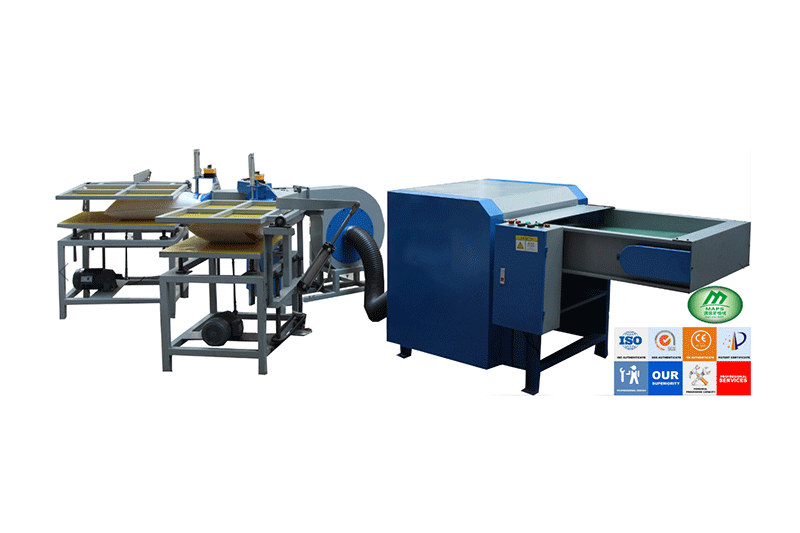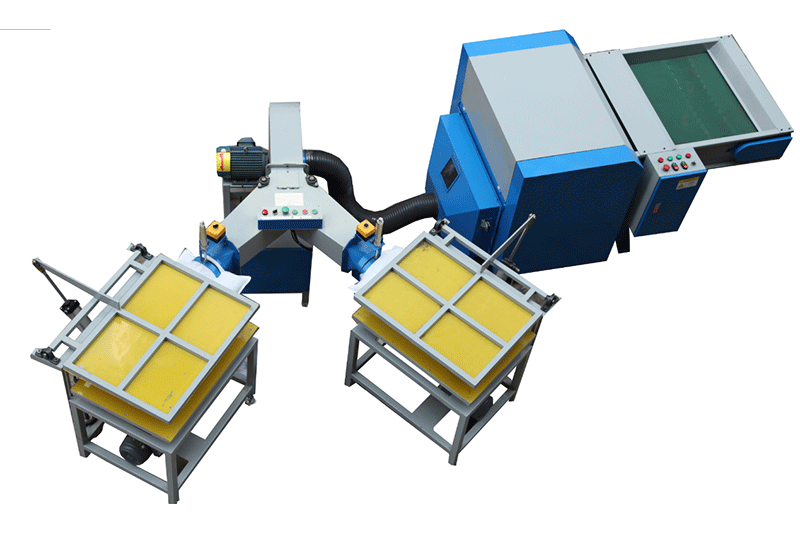 Bale opener( option)+ carding machine + double outlet filling machine+ flap table
Bale opener: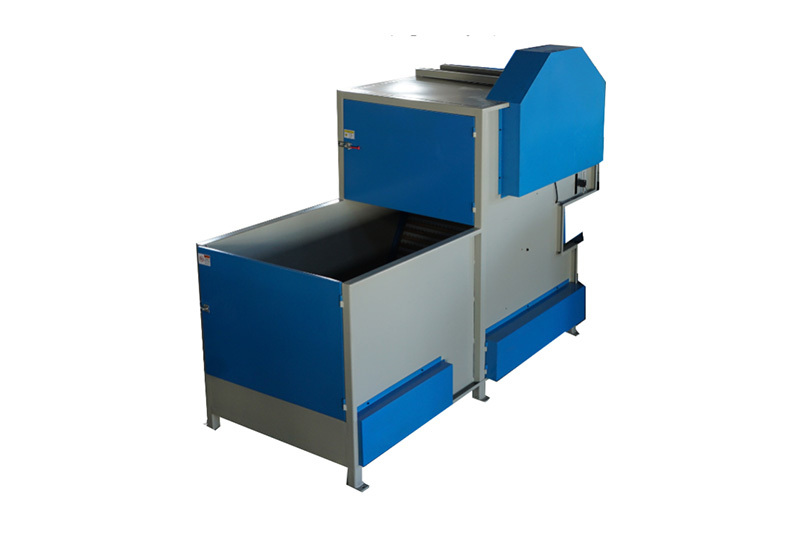 Name : Simple feeding machine (1000mm)
Model No.:AV-90-3
Size:2620*1250*2060mm
Power1.5KW
Motor Qty: 2 pcs
Capacity:Max 100-150kgs
Inner width:1000MM
G.W:450KGS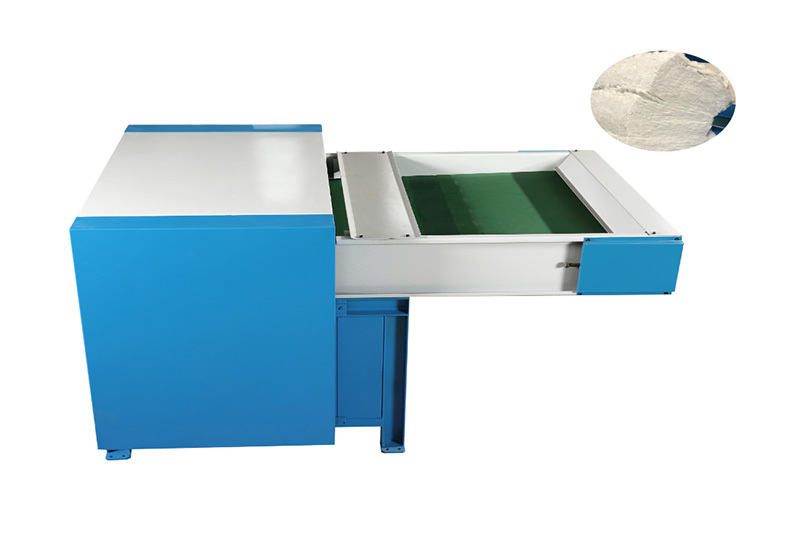 | | | | | |
| --- | --- | --- | --- | --- |
| Model: AV-909 | AV909-1 | AV909-2 | AV909-3 | AV909-4 |
| Dimension | 2200*820*1080mm | 2200*980*1080mm | 2200*1220*1080mm | 2200*1420*1080mm |
| Size of belt | 400mm | 560mm | 800mm | 1000mm |
| Power | 3.4kw | 4.4kw | 6.25kw | 8.25kw |
| Capacity | 100kg/h | 150kg/h | 250kg/h | 350kg/h |
| Weight | 700kg | 950kg | 1100kg | 1250kg |
Filling machine with Flap table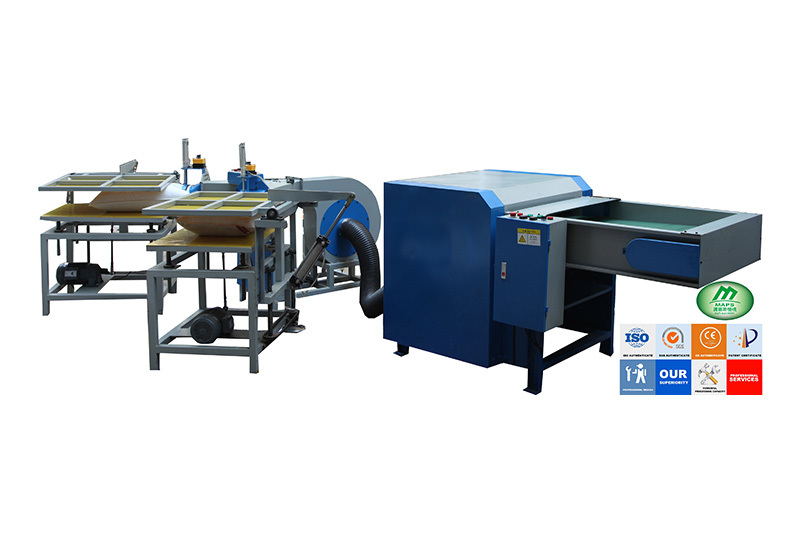 Table size: 500*600*760MM
Power: 0.4KW*2PCS
Pneumatic press: 0.6MPA
Filling capacity: 3-5pcs/minute
Project online consultation
Our staff will contact you within 24 hours (working days). If you need other services, please call the service hotline: 135 709 37065